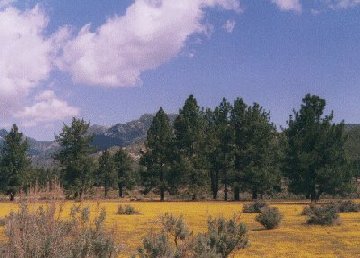 Ganz im Gegensatz zum "komfortablen" Wüstenklima von Palm Springs ist es längs des California State Highway 74 hinter dem ca. 3300 m hohen Mt. San Jacinto ausgesprochen frisch. Blühende Almen, kühles Bergseewasser und wunderschöne Ausblicke in diesem südlichen Teil des San Bernadino Forest bilden einen unerwarteten Kontrast zu dem, was man nur wenige Meilen zurück in den Desert Cities im Coachella Valley zu sehen bekam.



* The Palms to Pines National Scenic Byway starts on Highway 243 in Banning, leads to the scenic mountain village of Idyllwild, continues on Highway 74 through Garner Valley, and ends in Palm Desert. The 67 mile route, in the San Jacinto and Santa Rosa mountains travels from desert oasis to snow-peaked mountains.
The Indian Vista Overlook and Cahuilla Tewanet Overlook are two popular stopping points along the route.


* http://www.gorp.com

Palm Canyon



Joshua Tree N.P.



Homepage