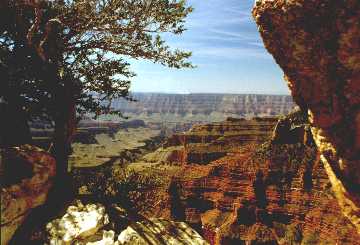 Die größte Schlucht der Welt kann von zwei Seiten her besucht werden,
vom stärker frequentierten South Rim sowie vom North Rim, dem etwa 300 m höher gelegenen Nordrand.
Im Winter ist der nördliche Zugang im allgemeinen geschlossen.
Mit etwas Glück, bei einem milden Winter, kann man schon im April den Weg - vielleicht vom Bryce Canyon her kommend - über Kanab zum North Rim nehmen.


Grand Canyon's North Rim attracts about 10 percent of the park's visitors.
The temperatures here are about 10oF cooler than the South Rim. The elevation averages 8,000 feet above sea level - about 1,000 feet higher than the South Rim.
Heavy snowfall in the winter closes the North Rim.
The rims are only 10 miles apart as the crow flies, but they are separated by more than 215 miles of road.

Watch Tower - Grand Canyon



South Rim - Grand Canyon



Homepage