Searching for my grandfather John A. Bork, born as Johann August Bork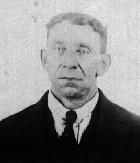 approx. 1926
While researching my family's history I found my grandfather's last track in the United States of America. About 1925/1927 he served as a Lithuanian Seaman on oil-tankers like "F.Q. Barstow" and "Geo. H. Jones" of the Standard Oil Co.
He was born in Germany, probably in Memel or Gumbinnen, East-Prussia. Not only the birthplace is uncertain but also the date of birth Dec-30-1888 or 1874.
A letter written by him tells that his address in 1926 was "25 South Street, New York City".
He returned on board of "Geo. H. Jones" from Rio de Janeiro to New York on August 1, 1926. The vessel's next voyage sailed on February 1, 1927 for South America but without him.
Did he sign on another vessel after that? Did he sail again to South America? Made he his home at New York or so?
Does anyone have any information about my grandfather's life from that time on?
I'd appreciate any help. Thank you.
Peter Bork
Please mail to: borksmail-sw at yahoo.de