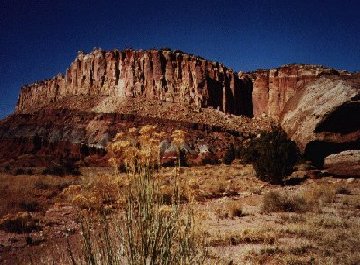 WARNING!!! Do not enter Wayne County without a camera... beginnt der Text im Prospekt, in dem der Capitol Reef National Park als spektakulärer Mittelpunkt des Wayne County hervorgehoben wird. Die farbenprächtigen Felsformationen des Parks sind Bestandteil der 160 km langen Waterpocket Fold. Diese geologische Besonderheit bietet auch eine Vielzahl an Wandermöglichkeiten in wüstenhafter Landschaft.
Das Fremont River-Tal , das längs des Utah Highway 24 die Waterpocket Fold durchquert, bildet hierzu einen starken Kontrast. Mehr als 1000 Jahre lang jagten in diesem Gebiet Indianer und betrieben Ackerbau. Vor etwa 100 Jahren legten hier Mormonen Obstgärten an. Heute darf in den Historic Orchards jedermann so viel Obst essen, wie er mag.



* Experience Capital Reef National Park -- a rugged, beautiful country where ancient, multi-colored rock layers are exposed by a massive fold in the earth's crust. Deep narrow canyons, great expanses of slickrock, and spectacular vistas are all part of the experience offered here.
*1996 VISITOR'S GUIDE TO CAPITAL REEF NATIONAL PARK