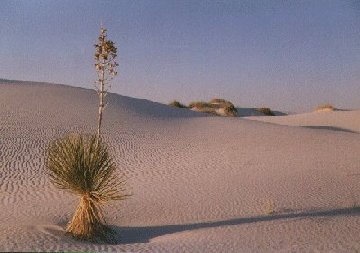 Aus Gipsablagerungen entstandener Sand im Lake Lucero wird vom Wind in nordöstliche Richtung ins Tularosa Basin getragen, wo sich die bis zu 15 m hohen Wanderdünen des
White Sands National Monument
bilden. Auf ihrem Wanderweg verändern sie stetig ihre Form. Der Dünologe ;-) unterscheidet hier vier Dünentypen:
Dome dunes, Barchan dunes, Transverse dunes und Parabolic dunes. Genaueres, auch in deutscher Sprache:


*Great wave-like dunes of gypsum sand have engulfed 275 square miles of desert and have created the world's largest gypsum dune field. The brilliant white dunes are ever changing: growing, cresting, then slumping, but always advancing. Only a few species of plants grow rapidly enough to survive burial by moving dunes.
The soaptree yucca can elongate its stem to keep its leaves above the sand, growing upward as much as a foot per year.


* Official Map and Guide, National Park Service

Chiricahua N.M.



Acoma, Sky City



Homepage